Cryptocurrency for Youth - We "Sea" Learning Differently
Navigation: Click on all banner buttons including drop down menus for all our content...
Welcome to our Community ...
At Cryptocurrency for Youth we "Sea Learning Differently"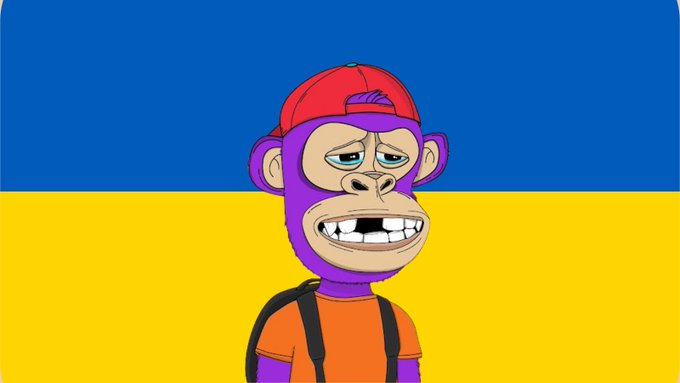 Showing support for our Ukranian friends through an NFT.... 
Cryptocurrency for Youth brings educational technology cutting edge initiatives to students, youth, schools and parents. We strive to share with you initiatives which are ahead of the curve and ahead of their time. If you are looking for the next great innovative opportunity most people have never heard of, are not aware of, and few are involved in then Cryptocurrency for Youth may have your answer. 
We strive to bring you opportunities for future learning. The topics we will share and give you an opportunity to be involved in are leading edge (in most cases ahead of their time). In sharing these opportunities we will inform you, teach you, but most importantly we will involve you, with hands on learning. You will have a chance to get involved, learn yourself and most importantly interact with our community as we explore new learning opportunities together.
~Cryptocurrency for Youth introduces our first initiative - Cryptocurrency Investing for Youth ~
The 21st century's acceleration towards a cashless society needs an alternative that's smarter and more forward-looking. It needs to give our kids the grounding they need in a world of financial apps, cryptocurrencies and the token economy — buzzwords today that will be the essentials of our kids' lives tomorrow.
The factory we envision is not the one your dad, mother, grandmother or grandfather ever worked in, and this is a factory job - times are changing!
Groups4Schools introduces our first initiative - Youth investment strategies for the technological age. 
                                                  What is Bitcoin? 2 min explanation
                                   Bitcoin Money: A Tale of Bitville Discovering Good Money
Bitcoin, Blockchain and Crypto Kids know stuff - Blockchain?   
Latest Flash...
The Latecomer's Guide to Crypto 
 A New York Times article, March 20/22
=================================Start your Journey - free session!  March 3rd, 5PM EST
REGISTER BELOW....
Here's a sneak peek of the agenda:
What makes Bitcoin a game-changer for personal finances

The biggest myths holding people back

The most critical aspects you need to know about Bitcoin

How anyone can start saving into Bitcoin (even if you're not currently investing or tech-savvy)

Plus... ask us anything. We're here to help.
Be sure to join us live (and feel free to invite a friend)!
Register here....Link Miss the session, no problem we will post the recording link as soon as it becomes available...
Explain  Bitcoin to me like I'm 5 years old...
Cryptocoinkid
Want to know what an NFT is? Check out Kamea's video. If you want to view all his videos even beyond what we have highlighted on our website visit here
CryptoDad
Want to check out the many YouTubers who are talking Crypto Currency. Please remember this are influencers but you should always do your own researach to validate any claims made by or on YouTube. Groups4Schools is creating our own list of followers to feature on our site - stay tuned for our choices!.
Crypto Dad back in May 2018 Rex gave us a shoutout on his Live Q & A. Thursday May 31st, 2018. Rex mentions Groups4Schools early in his video. We are partnering with Rex to bring our "youth" audience some insight. Check out his page and his "coming soon" video for youth..